Introducing Dr. Laura Wang
BS(Med), MBBS, MS, FRACS, PhD (Thyroid)
14th December 2021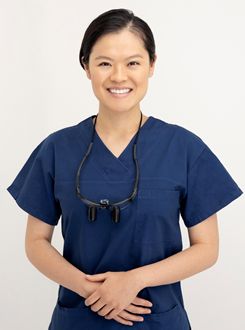 Laura Wang is a highly trained Endocrine, Head & Neck surgeon. She found her passion during her registrar years in Head and Neck departments across Sydney. She has a Masters degree and Doctorate of Philosophy dedicated to Thyroid cancer management. After becoming a fellow of the Royal Australasian College of Surgeons, she was selected for dual fellowships in Head and Neck Oncology and Microvascular reconstruction at the internationally renowned Memorial Sloan Kettering Cancer Center, New York. In this time, she further honed her skills and experience in treating complex tumors of the Head and Neck.
She has an interest in all aspects of Head and Neck care including –
–              Thyroid and Parathyroid surgery
–              Skin cancer surgery
–              Parotid and Submandibular gland surgery
–              Neck lymph node surgery
–              Oral cavity and Jaw cancer surgery
–              Head and Neck reconstruction
Dr Laura Wang has particular interest in thyroid disease. She trained with world leaders in thyroid disease and is trained to offer active surveillance for patients with low risk thyroid cancer. She has over 30 peer reviewed publications and has been an invited speaker at several national and international conferences.
Dr Wang obtained her BS(Med) MBBS, (Bachelor of Medicine, Bachelor of Surgery, Bachelor of Science Medicine) from the University of New South Wales. She completed her General Surgical training across New South Wales including Liverpool Hospital, Campbelltown Hospital, Prince Alfred Hospital, Chris O'Brien Lifehouse, Auburn hospital, as well as multiple regional centers including Newcastle, Taree and Nowra. As a junior registrar she developed an interest in Endocrine, Head and Neck surgery, completing her Masters of Surgery.  Her academic achievements now include over 30 peer reviewed publications in the field of Head and Neck cancer and she holds a Doctor of Philosophy on the topic of thyroid cancer. She is currently also a senior lecturer at the University of Sydney.
Dr Wang is now happily settled back in Sydney after her tour of New York with her husband Tooraj and little boy Hudson.  In her spare time she likes travelling and skiing.  She can't wait to go back to Hokkaido, Japan for ski trip when Covid is finally under control.
FOR APPOINTMENTS & ENQUIRES PLEASE CONTACT:
P: 02 4732 5599 | F: 02 4732 5600
W: DrLauraWang.com.au | Consulting at: Derby St Medical Centre / 64 Derby St, Level 2, Suite 204, Penrith, NSW, 2750